I was very pleased with
I was very pleased with service that I received, the item that I ordered actually turned out better than I expected.
I will definitely recommend Ambees Engraving to my friends.
Trent Jackson
Dunamis
Beautiful trophies for our show choir competition!
WWSHS has worked with Ambees for many years to purchase engraved crystal trophies for our show choir competition. They are beautiful, meticulously engraved, and well-priced. We order around 25 trophies each year, and every year the owner and his family have been extremely helpful and kind as well as willing to negotiate pricing. We have received MANY compliments about our trophies over the years and HIGHLY recommend Ambees.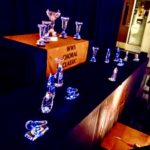 Tricia Webber
WWSHS
2018 DeLorean Convention and Show Awards
We worked with Ambees Engraving to create the awards for our 2018 DeLorean Convention and Show in August. As you can see in the attached photo, The engraved awards turned out beautifully, and were the right price. We will definitely use Ambees Engraving in the future. Thank you Zoeb for the quick turnaround!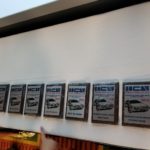 Cynthia Bennett
I still can't get over
I still can't get over how great this place is. Not only was Zoeb kind and helpful, but his work is amazing and greatly priced. I highly recommend checking him out!!!!
Erin Milankovic
THANKSGIVING TOURNAMENT
As always the SERVICE, the pricing, the QUALITY head and shoulders above everyone else. I recommend them to everyone.
Laurie Gragnani
PAV YMCA
Great service for the price and time
Recently I've worked with Ambees on two separate projects, awards needed for our school competition and club competition. Very gentle and kind people from Ambees did that before the time period needed, and it was not costly as in other companies. I will recommend them always!
Peter
Publications
Read a publication about our business from A-E-Mag! Click on image to open PDF and enjoy!
---
Back to Home