It's All About Family at
Ambees Engraving Inc.
On a typical day, the folks at Ambees Engraving Inc. can be found working on a variety of projects: engraving on executive watches or iPads or working on more traditional trophies. But the small fam- ily-run shop located in Westchester, Illinois, views the business as anything but typical.
"Every day is full of excitement because we learn something ne w from ever y project," says owner Zoeb Mithaiwala. Working alongside his wife Farzana, and two children who step in when needed, Hussain and Fatema, Zoeb loves the charms of running a family business. "We are just two employees, but our kids are always there to help us in time of overload," he laughs. "Either it's a fast season or slow business time of the year; we are always together to share both profit and loss."
FAMILY DYNAMICS
The family wasn't always in the awards and engraving business. In fact, Ambees got its start in 1986 when founder Hatim Simba started a side business with a New Hermes pantograph to make name badges for nursing schools and restaurants. But as business began to boom, he invested in it full-time and bought a storefront in 1990.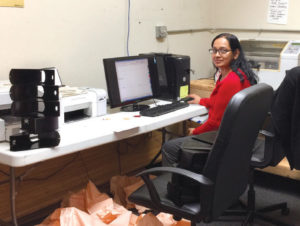 Zoeb Mithaiwala and family moved to the U.S. in 2011; originally from Pakistan, the family was in the leather goods manu- facturing business for almost 25 years. "We moved… with the hope of a better life and opportunity," he reminisces. While they were looking to stay in the same business, their financial advisor instead steered them toward purchasing Ambees, which they did in 2012. And they have never looked back. "Although the field was completely dif- ferent and new from what we had experi- enced, my family got enticed by the cre- ativity and the potential of the business and its link to the advanced technology," Zoeb states. He adds that there was an initial learning curve, but now they pride themselves on taking on the "tricky projects." "Our basic business concept is, 'You name it, we will do it,'" Zoeb empha- sizes. "In the last five years, we have taken Ambees Engraving Inc. to a whole new path of success, and the big credit goes to our loyal customers who stayed with us… and gave us a chance."
Even though the children work along- side their parents, Fatema says her role is simply that of family member, not employee. "I help my parents when they need it," she says. "I am not an employee at Ambees; I consider it as my hobby. I love working (here), and seeing it be successful is not only my wish but my aim." That doesn't keep her from committing a lot of time to it, however, or loving it. "I like challenging jobs as I always learn some- thing new and it gives a satisfied feeling of success upon completion," she affirms. And like her father, she thoroughly enjoys the creativity and brainstorming that go into the trickier projects.
RECIPE  FOR SUCCESS
Today, Ambees hums along at a successful pace, working off of its recipe for success: No set-up charge, no engraving text restrictions, send proofs for approval until the customer is satisfied, and no rush charges. "And the secret ingredient is our fast turnaround time; we are popular for same-day delivery," Zoeb says.
Exceptional customer service is one thing that Zoeb believes has set Ambees apart from other businesses. The company relentlessly works with its customers to make sure the final project meets their expectations and more. One way they do that is through the approval process. "We are famous for engraving on projects whose cost could be
$1,000 or more, (so) we prepare one sample of engraved text on a similar material and show it to our customer for approval and let them decide whether they want to proceed with the engraving on their final product or not," he says. The benefit this provides the customers keeps them coming back for more.
Case in point are the many accounts the company has served throughout the years that it continues to serve today. Some of its oldest customers include Chicago public schools, Rush Medical University, and Loyola Medical University. Among those customers, Ambees has a few that stick out in memory.
"The most memorable (project) we have done was for Mulhern School of Irish Dance," Zoeb recalls. "It was a huge order of 90 tro- phies of a silver wine cooler on wooden base. The engraving plates numbered about 300, or more. The thing that makes it memorable was the time (it took to complete)—about three to four days." And as the company continues to expand and grow, there are sure to be more memorable projects down the road.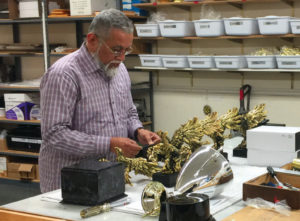 A BRIGHT FUTURE
Along with providing great customer service and enjoying the creativity of the various projects that come in their shop, the family simply enjoys being a family while at work. There are a lot of perks and benefits surrounding running a family business, all of which each member enjoys at Ambees.
"The benefit of a family business is that it is not restricted to us, but it stays open for my it and open more branches of it and be an owner of one of them," she laughs. "When my parents bought Ambees Engraving Inc., they didn't know how to use a com- puter. Now, looking at Ambees' success and checking customer reviews and feedbacks makes me a firm believer that it is never too late to start anything new and education has no age."
When it comes to starting or learning adding new equipment and services isn't the only way Ambees Engraving Inc. is keeping up with the times, either. Zoeb points out that one of its current projects is focusing on online sales, and the business website is also under development. And the company will not stop growing and changing. "In the next five to 10 years, we see ourselves on a whole new level, and for that, we are working hard and rapidly kids, too," Zoeb believes. "They can join the business, be their own owners, and expand it to a whole new level." Certainly expansion and growth is in Ambees' future.
Fatema doesn't plan to take over the busi- ness anytime soon, but the idea of expansion is one she entertains. "(I'd love to) expand something new, Ambees appears to not only embrace change, but keep pace with it. Zoeb mentions that the business recently jumped into the apparel business, offering printing and embroidery services. "(Our) next target is big commercial sign making, which is a whole new business by itself," he adds.
---
Back to Home